Rikyuan Private Open Air Hot Spring
private open air hot spring free of charge as many time as you want.Rikyuan is small Japanese style inn, offering 2 private open air hot spring, by self-reservation, guest can use privately.Our good quality fresh hot spring water can be enjoyed at 2 private outdoor hot springs and male / female indoor public bath as well.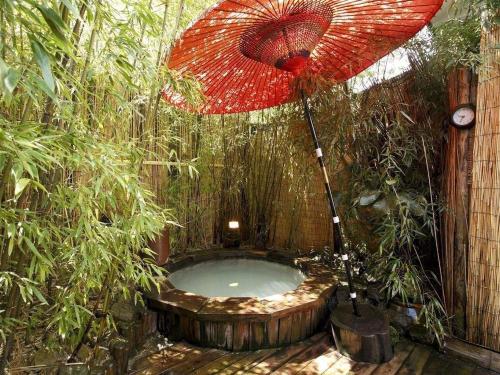 Nayo Take no Yu

Free flowing open air hot spring, which is designed in the image of "Kaguyahime" (The Tale of Princess Kaguya)
 
Korin no Yu

Free flowing open air hot spring, its design is inspired by wind, light and wood.
Guidance
Due to the influence of the Owakudani volcanic activity in 2015, hot spring water color has been currently discolored reddish brown.

Spring quality
Acid - sodium calcium magnesium - sulfate spring

Unresponsiveness
Neuralgia, muscle pain, joint pain, frozen shoulder, motor paralysis, stiff joints, bruises, sprains, chronic digestive disease, hemorrhoids, poor circulation, illness recovery period, fatigue recovery, health promotion, chronic skin disease, cuts, burns, artery sclerosis

Contraindication disease
(Especially when there is a heat) acute disease, active tuberculosis, malignant tumor, severe heart disease, respiratory failure, renal failure, bleeding disorders, severe anemia, other general disease of ongoing diseases, during pregnancy (especially early and end-stage), of the skin, mucous membrane irritation, etc.